Winter Meetings
Mid-summer Inspection with José; The venue for these meetings is Hove.
Apiary Meetings
At the meetings groups of members examine the various hives under the guidance of experienced members. Everyone gets the chance to see what is going on in the colony, what is needed and to handle the bees, especially beginners. We do have a range of bee suits, veils etc that can be borrowed during the meetings, but if you have your own then please bring them.
Important:
Visitors must make sure that their suits and boots are clean and also bring clean washing-up or disposable gloves if they wish to handle bees. These measures are to prevent, or at least minimise, the spread of disease. Please bring your own Bee Sting medication (e.g. Antihistamine) if you need to treat your own bee stings when visiting the out-Apiaries. We cannot administer any treatment to visitors.
For security reasons the locations of non-divisional apiaries are not published. Directions to Divisional apiaries are given on the secure page. Contact Gerald for access to this.
The Brighton & Lewes Division of the SBKA cannot accept any responsibility for loss, injury or damage sustained by persons in consequence of their participation in activities arranged.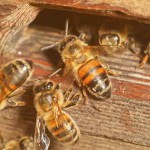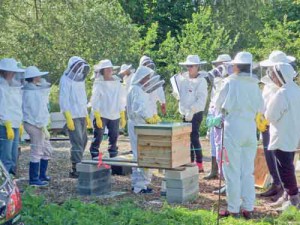 Busy entrance Examining colonies
Access to the location of the out apiaries is available via user name and password to members only. Contact the Webmaster
D I A R Y
DATE
EVENT
SPEAKER
LOCATION
NOTES
20th Dec
Managing Apideas
Dan Basterfield
Zoom meeting
NBD
17th Jan
Rewilding - a personal view
Neil Hulme
Eastgate Baptist Church
Freelance ecologist
21th Feb
AGM & Honey Show (+ gadgets)
Eastgate Baptist Church
20th Mar
Poisonous Honey
Pam Hunter
Eastgate Baptist Church
BBKA
17th Apr
Ivy Bees
Francis Ratnieks
Eastgate Baptist Church
Prof. at Univ. Sussex, LASI
Out Apiary Meetings
Start at 1.30pm. Bring a mug for tea / coffee and a cake to share.
Weather affects the visits. Check email / mobile phone beforehand in case of cancellation.
Wear a clean bee suit, clean wellies, and clean gloves. No aftershave or perfume – can affect the bees.
We have limited parking at Isfield. A traffic marshal will be on site.