The Brighton and Lewes Division of the Sussex Beekeepers Association is open to anyone interested in beekeeping. We cover an area of Sussex ranging from Portslade in the west to Newhaven in the east and as far north as Haywards Heath. Our membership consists of beginners, who are most welcome, as well as old-timers full of wisdom and help! We aim to promote the interest in beekeeping and provide ways and means of teaching the art as well as educate the wider public on all things bees.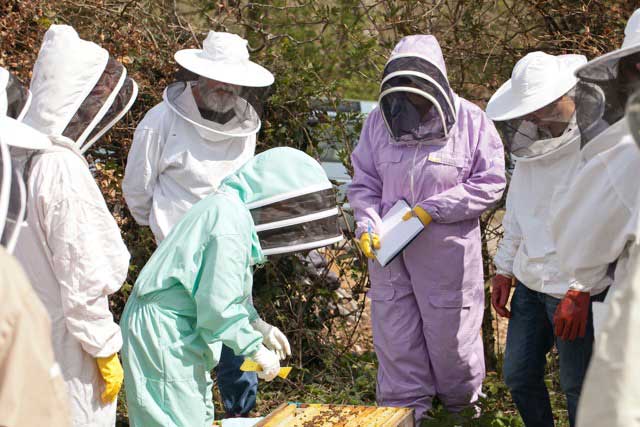 We hold about 18 meetings a year, most of which – from April until September – are outdoors either in our out-apiaries, managed by members of the Division, or those of our members. Out-apiary meetings are important for teaching the science, art and craft of beekeeping as well helping our funds through the sale of honey. Our apiaries include ones at Barcombe, Hassocks/Burgess Hill, Hove, and Isfield which means most members don't have to travel too far to visit.
During the winter there are six indoor meetings with talks, discussion and plenty of tea, coffee and good company.
If you are interested in joining then pop along to a meeting and introduce yourself. You can download a membership form here: as a pdf or as a word file.
Taster/Basic Bee Keeping Courses
For those interested in training and learning the art/craft of beekeeping details will be posted as and when available.
Members Only Area
Members can access the latest newsletter and details of the out-apiaries from the Members Area - see side menu. For password and user name contact Gerald Legg.
Buy Local Honey
If you're looking to buy LOCAL honey – then we may be able to help to put you in touch with one of our members by clicking on this map.