Improve Your Beekeeping Skills
Brighton and Lewes Division beekeepers are keen to help our members to improve their knowledge and skills in a number of ways.


Gain knowledge and confidence by taking the BBKA exams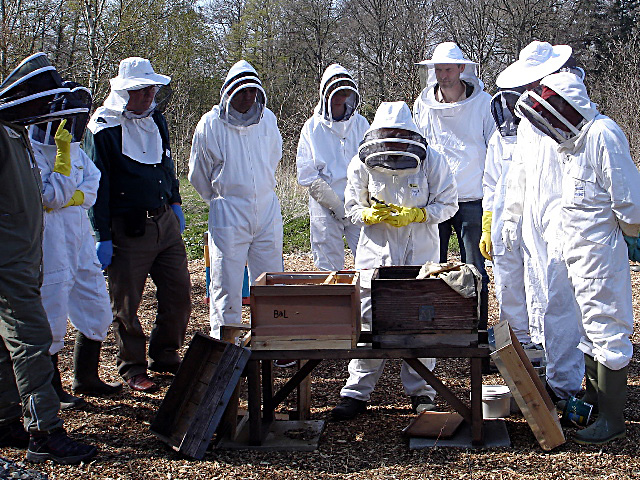 Any beekeepers from Brighton and Lewes Division who have their Basic Assessment will be able to enter the Honey Bee Management module 1 and includes topics such as:
The management of a colony throughout the year, Spring, Summer and preparation for Winter, including the underlying principles of the required activities.
Methods of swarm, control used in small-scale beekeeping enterprises including those methods developed by J.W. Pagden, L.E. Snelgrove and G.W .Demaree.
The methods of making nuclei and the uses to which nuclei can be put.
The signs of a bad-tempered colony.
The signs of queenlessness and a method of confirming the condition.
There will be a course fee to cover the cost of room hire, if applicable, refreshments and stationery costs payable to Brighton and Lewes Beekeepers and a registration fee payable directly to BBKA for the exam in March or November 2023.
The syllabus will be delivered over 10 sessions: October 5th, 12th, 19th half term, November 2nd, 9th, 16th, 23rd, 30th and December 7th and 14th with a break for Christmas and an option of revision exam practice sessions from January 2023 to the February half term followed by the exam in March 2023. Please contact Jude New if you are interested.
Further training and assessment details:
Meetings are held at The Barn, Westdene, Dene Vale, Brighton BN1 5ED.
A Novice Bee Keeping Course
will start on March 19
th
2022.
| | | | |
| --- | --- | --- | --- |
| | Morning Session: The Barn | | Afternoon session: Hove apiary |
| March 19th | 10.00 - 13.00 | | 13.30 - 16.00 |
| April 2nd | 9.15 - 12.45 | Setting up an apiary/pests and disease | 13.15 - 16.00 |
| May 28th | 9.15 - 12.45 | Swarm and control part 1 | 13.15 - 16.00 |
| July 16th | 9.15 - 12.45 | Swarm and control part 2 | 13.15 - 16.00 |
| August 20th | 9.15 - 12.45 | Honey regulations and labelling | 13.15 - 16.00 |
| September 17th | 9.15 - 12.45 | Preparing for winter | 13.15 - 16.00 |

This course is intended for those who have had bees for less than a year, or who don't feel ready to enter the Basic Assessment.

It will start to prepare participants for the Basic Assessment for 2023 and beyond. Membership of Brighton and Lewes Bee Keepers, clean bee suits, wellingtons and gloves will be required. A limited number of beekeeping jackets are available to borrow. There are up to 15 spaces at the Barn.

(BBKA) Basic Assessment course beginning on June 11th 2022.
Basic Assessment meetings leading to assessment on July 5th or July 12th
Additional assessment s can be arranged for candidates who normally work on week days

Date
Place
Topics to be covered
Syllabus Points
Start
Finish
11th June afternoon
The Barn
Check registration Natural History and Beekeeping
Registration completed for BBKA Assessment? Making arrangements for assessment time and place.
Natural History and Beekeeping.
13.30
16.00
18th June morning
The Barn
Swarming
2.1 able to give an elementary account of the development of queens. workers and drones in the honey bee colony – 2.16 aware of the various web-based resources relating to beekeeping such as BBKA and Beebase.
9.15
13.00
18 June afternoon
Hove Apiary
Manipulation and equipment practical
1.1 the care needed when handling a colony of honey bees - 1.6 the importance of record keeping.
1.0-1.6
14.00
16.00
25th June morning
The Barn
Disease and pests
4.1 able to describe the appearance of healthy brood, sealed and unsealed - 4.11 able to describe how mice and other pests can be excluded from the hives in winter.
9.15
13.00
25 June afternoon
Hove Apiary
Manipulation and equipment practical
1.7 open a colony of honey bees and keep the colony under control -.14 identify stored nectar, honey and pollen.
1.7- 1.14
13.00
16.00
2nd July morning
The Barn
Revision and quiz
Candidate choice any revision from previous sessions and quiz.
9.15
13.00
2nd July afternoon
Hove Apiary
Manipulation and equipment practical
1.15 take a sample of worker bees in a suitable container - 1.21 discuss spacing of the combs in the brood chamber and super for both foundation and drawn comb and methods used to achieve this spacing.
1.15-1.21
14.00
16.00
In the event of bad weather, the training will stop at the end of the session at the Barn at 13:00 and the practical sessions will be provided at subsequent sessions.
To qualify for Basic Assessment, you must have been keeping bees for at least two seasons you must have either full membership of Brighton and Lewes Beekeepers or a Friends membership if you belong to another division in the Sussex BKA.
This assessment provides a gateway for further nationally recognised skills based or exam-based study with BBKA. The BBKA basic assessment is also a requirement for tenancy, in out apiaries in some circumstances. There is a course fee and a registration fee which is paid directly to BBKA. There are a total of eight spaces at The Barn to give the best learning experience in the apiary and in the classroom.

For information on any of the training or assessment courses please contact Jude New for details.
We are becoming popular, we would really like to have mentors for our new beekeepers.
We can offer support via B + L Buzz WhatsApp, perhaps a voice on the committee to make changes which benefit new beekeepers and mentors…
We are looking for people who have achieved their BBKA Basic Assessment, or above that experience of beekeeping. We want to provide and maintain a good and safe standard of beekeeping for our members.
We would like to recruit mentors to cover as much of our division as possible we cover an area of Sussex ranging from Portslade in the west to Newhaven in the east and as far north as Haywards Heath.
Message me, Jude New, if you want to be part of this initiative