Improve Your Beekeeping Skills
Brighton and Lewes Division beekeepers are keen to help our members to improve their knowledge and skills in a number of ways.


Gain knowledge and confidence by taking the BBKA exams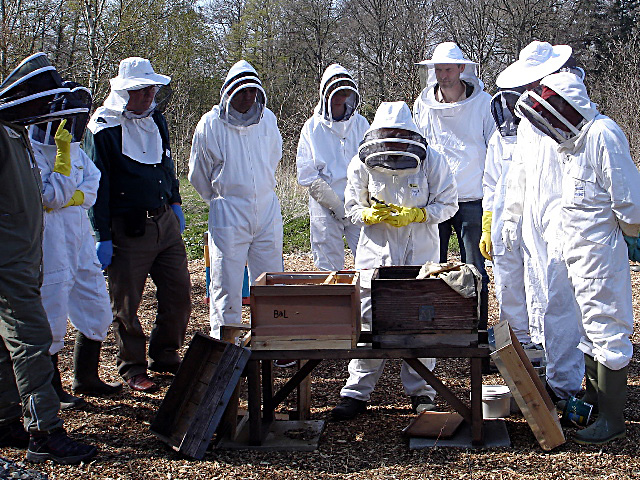 Any beekeepers from Brighton and Lewes Division who have their Basic Assessment will be able to enter the Honey Bee Management module 1 covering topics such as:
The management of a colony throughout the year, Spring, Summer and preparation for Winter, including the underlying principles of the required activities.
Methods of swarm, control used in small-scale beekeeping enterprises including those methods developed by J.W. Pagden, L.E. Snelgrove and G.W .Demaree.
The methods of making nuclei and the uses to which nuclei can be put.
The signs of a bad-tempered colony.
The signs of queenlessness and a method of confirming the condition.
There will be a course fee to cover the cost of room hire, if applicable, refreshments and stationery costs payable to Brighton and Lewes Beekeepers and a registration fee payable directly to BBKA for the exam in March or November 2023.
The syllabus will be delivered over 10 sessions from 19.00-21.00 on Thursdays every other week at The Barn Westdene Green, Brighton: October 6th, 20th, November 3rd, 17th, December 1st and 15th with a break for Christmas January 26th, February 9th, and 23rd and March 9th 2023. The exam is usually set for the third Saturday in March and the second Saturday in November. We will talk about bees and the new syllabus for 2023, there will of course, be cake and coffee! Please contact Jude New. If you are interested in the course, but not the exam, you are also welcome to join, please contact me.
Further training and assessment details:
Meetings are held at The Barn, Westdene, Dene Vale, Brighton BN1 5ED.
A Novice Bee Keeping Course
will start on March 19
th
2022.
| | | | |
| --- | --- | --- | --- |
| | Morning Session: The Barn | | Afternoon session: Hove apiary |
| March 19th | 10.00 - 13.00 | | 13.30 - 16.00 |
| April 2nd | 9.15 - 12.45 | Setting up an apiary/pests and disease | 13.15 - 16.00 |
| May 28th | 9.15 - 12.45 | Swarm and control part 1 | 13.15 - 16.00 |
| July 16th | 9.15 - 12.45 | Swarm and control part 2 | 13.15 - 16.00 |
| August 20th | 9.15 - 12.45 | Honey regulations and labelling | 13.15 - 16.00 |
| September 17th | 9.15 - 12.45 | Preparing for winter | 13.15 - 16.00 |

This course is intended for those who have had bees for less than a year, or who don't feel ready to enter the Basic Assessment.

It will start to prepare participants for the Basic Assessment for 2023 and beyond. Membership of Brighton and Lewes Bee Keepers, clean bee suits, wellingtons and gloves will be required. A limited number of beekeeping jackets are available to borrow. There are up to 15 spaces at the Barn.

For information on any of the training or assessment courses please contact Jude New for details.
We are becoming popular, we would really like to have mentors for our new beekeepers.
We can offer support via B + L Buzz WhatsApp, perhaps a voice on the committee to make changes which benefit new beekeepers and mentors…
We are looking for people who have achieved their BBKA Basic Assessment, or above that experience of beekeeping. We want to provide and maintain a good and safe standard of beekeeping for our members.
We would like to recruit mentors to cover as much of our division as possible we cover an area of Sussex ranging from Portslade in the west to Newhaven in the east and as far north as Haywards Heath.
Message me, Jude New, if you want to be part of this initiative