Winter Meetings
Venue: Zoom on-line until further notice
A link for the meetings will be sent to you about 24 hours before the meeting..
7.15pm for 7.30pm until 9.00pm
Apiary Meetings
At the meetings groups of members examine the various hives under the guidance of experienced members. Everyone gets the chance to see what is going on in the colony, what is needed and to handle the bees, especially beginners. We do have a range of bee suits, veils etc that can be borrowed during the meetings, but if you have your own then please bring them.
Important:
Visitors must make sure that their suits and boots are clean and also bring clean washing-up or disposable gloves if they wish to handle bees. These measures are to prevent, or at least minimise, the spread of disease.
For security reasons the locations of non-divisional apiaries are not published. Directions to Divisional apiaries are given on the secure page. Contact Gerald for access to this.
The Brighton & Lewes Division of the SBKA cannot accept any responsibility for loss, injury or damage sustained by persons in consequence of their participation in activities arranged.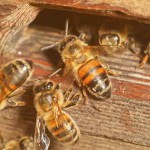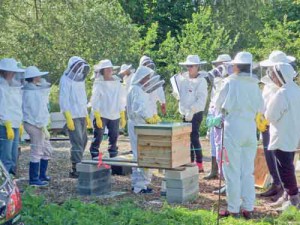 Busy entrance Examining colonies
Access to the location of the out apiaries is available via user name and password to members only. Contact gerald[at]chelifer.com
D I A R Y
Summer Meetings
Summer Meetings usually start at 1:30 pm. Occasionally dates and venues do change and will be updated. NUMBERS ARE LIMITED see each date for details and contact Hilary if you wish to attend. Note: there are NO facilities at these sites. Due to the current Covid-19 restrictions, please bring your own bee suits, clean disposable gloves (if you're planning to handle bees) and clean wellington boots. Please also bring a face mask – it may /may not be needed.
IMPORTANT For all summer meetings in 2021, due to Covid-19 restrictions, we need to ensure that we limit the numbers attending to no more than 30, or fewer people if the venue has space limitations. Therefore, for this summer only (hopefully), you need to book your slot through Graham Bubloz (07758 866278.) Please let him know your mobile phone number in the email.
Please Note: If the weather forecast for the outdoor event is bad, such as steady rain, then it will be cancelled. If weather is marginal any changes will be emailed beforehand so please check your emails before leaving. If still in doubt ring the number given.

17-19th September, a stall, Bentley Wood Fair.
30th October, Autumn Convention. Hastings and Rother will be hosting this event at Robertsbridge Village Hall. There will be a hybrid event with both Live and Remote speakers. You will be able to attend the meeting in person or connect remotely via zoom. They are still in the early stages of planning and will provide further information once the speakers and Booking arrangements are known through their website.
Education and Training (more information under Training and Assessment)
For course dates – please see the Training and Assessment page.