Winter Meetings
Venue: Zoom on-line until further notice
A link for the meetings will be sent to you about 24 hours before the meeting..
7.15pm for 7.30pm until 9.00pm
Wed, 20th Jan, 2021 Prof. Dave Goulson Insect Apocalypse
Wed, 17th Feb, 2021 Chair: Norman Dickinson AGM followed by Q&A
Wed, 17th Mar, 2021 Celia Davis Subject to be confirmed
Wed, 14th Apr, 2021 To be arranged
Apiary Meetings
At the meetings groups of members examine the various hives under the guidance of experienced members. Everyone gets the chance to see what is going on in the colony, what is needed and to handle the bees, especially beginners. We do have a range of bee suits, veils etc that can be borrowed during the meetings, but if you have your own then please bring them.
Important:
Visitors must make sure that their suits and boots are clean and also bring clean washing-up or disposable gloves if they wish to handle bees. These measures are to prevent, or at least minimise, the spread of disease.
For security reasons the locations of non-divisional apiaries are not published. Directions to Divisional apiaries are given on the secure page. Contact Gerald for access to this.
The Brighton & Lewes Division of the SBKA cannot accept any responsibility for loss, injury or damage sustained by persons in consequence of their participation in activities arranged.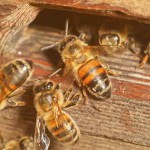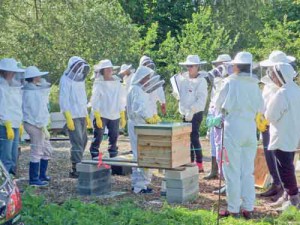 Busy entrance                  Examining                      colonies
Access to the location of the out apiaries is available via user name and password to members only. Contact gerald[at]chelifer.com
D I A R Y
Summer Meetings
Summer Meetings start at 2:00 pm. Please bring a mug for tea and something to share to eat.
Occasionally dates and venues do change and will be updated.
Please Note: If the weather forecast for the outdoor event is bad, such as steady rain, then it will be cancelled. If weather is marginal any changes will be emailed beforehand so please check your emails before leaving. If still in doubt ring the number given.
Education and Training (more information under Training and Assessment)
For course dates – please see the Training and Assessment page.