Improve Your Beekeeping Skills
Brighton and Lewes Division beekeepers are keen to help our members to improve their knowledge and skills in a number of ways.
Out apiary visits and further instructions
This year we have decided to change the format of out apiary visits to cater more for those existing beekeepers who wish to improve their techniques, we will also be starting at 2 pm as the previous earlier time may have put some from coming if they had any distance to travel. In recent years we have had quite a few new beekeepers and now they have got used to handling bees it is time they progressed to better swarm control, techniques for comb change, queen rearing and increase etc.

These topics will need the time available to cover them fully and because we don't wish to overwhelm complete beginners who may not yet have any bees, but we hope will still attend, I would like to make the following suggestions in preparation for the apiary visits – homework!

Firstly, all new beekeepers should read a good bee book which will cover the basics, equipment and basic bee biology, there are many on the market, some OK, some are only fit to line my dustbin. The best I personally would recommend is Haynes Bee Manual by Claire and Adrian Waring. The text is concise and informative, with excellent illustrations and abundant diagrams. The next option is a well-designed bee course. Heather, our Chair, is offering some full day theory and practical courses in the week beginning 26th March and may have some spaces, contact her if you are interested. I am running more theoretical two-day courses but still with some practical, at Mantel Farm, Catsfield, during the year. Bookings and details are on their website.

Amanda Millar, B&L Education
We offer practical training in the Divisional apiaries in the summer. See Events page for further details and dates.
Winter talks on a variety of bee related topics. See Events page for details of talks.
Beekeeping courses, see below.
The British Beekeepers' Association also offers theoretical module examinations and practical assessments at Basic stages, General Husbandry and more advanced, Brighton and Lewes Division offers help and advice for those wishing to pursue the exam route. Full details of these examinations and assessments can be found on the BBKA Website
Beekeeping courses for 2020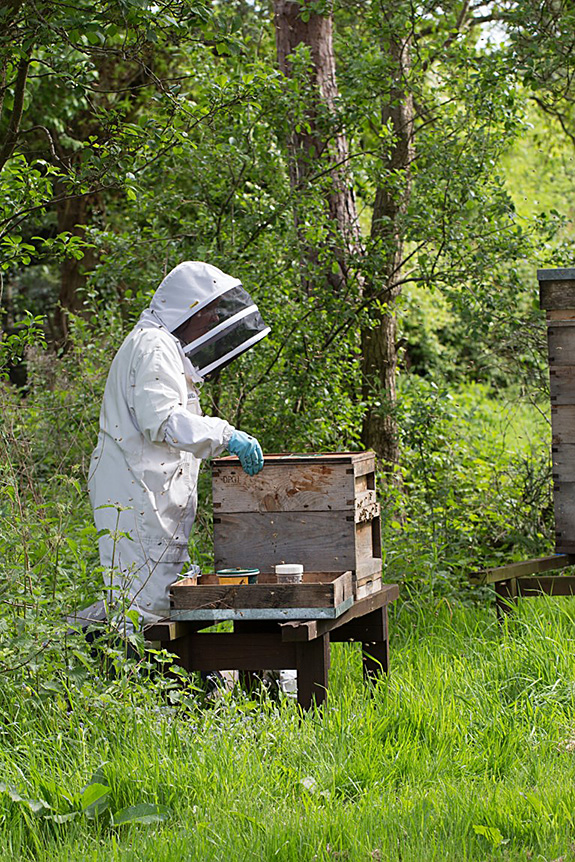 A number of courses will be available for 2020. The Tutors are Heather McNiven (Chair, Brighton & Lewes Beekeepers) and Amanda Millar (past President of Sussex Beekeepers' Association and President of Brighton and Lewes Beekeepers, who has achieved module theory examinations 1-7, General Husbandry qualifications and has sixteen years of experience running up to 25 colonies).
Heather: CANCELLED
Heather McNiven is offering to teach new prospective beekeepers what they will need to know to get started with this lovely hobby.
Venue:
Stonecroft, Lower Station Road, Newick, East Sussex BN8 4HU. For further information contact her by email
Dates available:
March: Monday 23rd, Tues 24th, Thurs 26th, Sat 28th or Sunday 29th . Each class is usually restricted to six students, unless a combined group of friends are more than six then we have to be a little understanding about cosying up!
Course structure:
Bee biology; types of hive; basic equipment needed; COFFEE; a year in the hive; swarm collecting; LUNCH; diseases; plants for bees; frame making; smoker lighting. This leads a hands-on session with bees (weather permitting). Tea/Coffee available during Question Time.
Cost: £60; time 9am-4pm, and please bring your own lunch.
Amanda: Two-day courses 9.30-4.30 pm held at Mantel Farm, near Battle, East Sussex
CANCELLED

1. The Honeybee, the bee colony, biology and life cycle
2. Equipment and costs, equipment, frames, wax, tools, personal protection
3. The Apiary, layout, siting the hives, responsibilities and safety
4. Managing Honeybee colonies, Inspections, swarm control, uniting, moving colonies
5. Bee Health and Diseases, Bee parasites, diseases, pests and other problems, how to recognize and treat them
6. The importance of Plants, requirements of honeybees and other pollinators
7. Honey Harvest and Winter preparation, honey extraction and handling, equipment and preparing for winter
8. Information, help and support, Resources, books, magazines, local organisations, obtaining bees.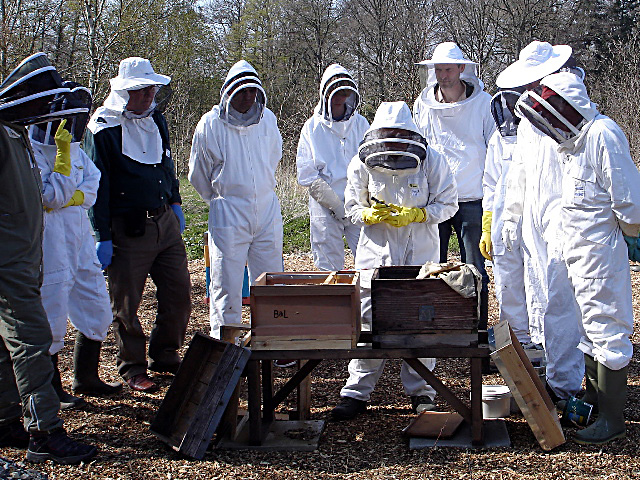 Weather permitting we shall also inspect a colony.

Courses includes refreshments and lunch and comprehensive booklet. Further details and booking go to https://mantelfarmshop.co.uk
Courses run on 14/15th March, 25/26th April, 10/11th October 2020
Special one-day bee experience courses
These will cover a general appreciation of the biology and behaviour of bees and other pollinators and the problems they are experiencing, what to plant and how to make solitary bee hotels. This course is not about how to keep honey bees. Dates are 28th March, 2nd May, 6th September, 3rd October (hopefully).
Contact: Amanda Millar