Improve Your Beekeeping Skills
Brighton and Lewes Division beekeepers are keen to help our members to improve their knowledge and skills in a number of ways.


Gain knowledge and confidence by taking the BBKA exams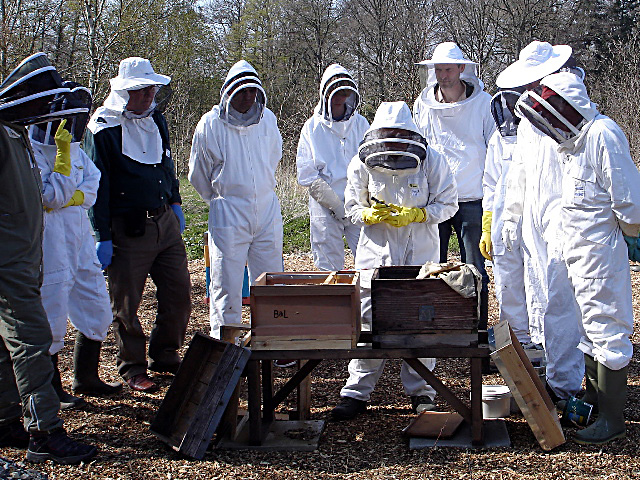 There is a Module 6 Study Group meeting bi-monthly for BBKA module 6, we alternate our meetings at Rottingdean and Patcham, at members' homes. We have an online tutor from BBKA and intend to apply for the exam in November 2022, by the end of January. If you wish to join this group, there is a minimum fee of £10.72 to pay for a share, of the BBKA online tutor. If you choose to enter the exam in November, there is a registration fee payable, by the end of January 2022. Please contact Jude New on the link at the bottom of the page, if you would like to know more.

A Bee Improvement Group has been formed to rear locally adapted bees. We have chosen to breed from colonies which, we estimate, to be calm to handle. We are looking for bees which do not swarm easily, do not require too much feeding, can be managed on one National Hive brood box and provide good honey supplies at the end of the season. The group is full for 2022. We hope to establish breeding colonies for 2023 which will need more bee keepers to help to continue with the work.
Further training and assessment details:
An Introduction to Bee Keeping is planned for March 12th 2022 to be held at The Barn, Westdene, Dene Vale, Brighton BN1 5ED.
No live bees will be on site for health and safety reasons. This day is for participants who want to know more about bee keeping before investing in bees and equipment. Participants will learn about bee keeping basics, they will have a chance to chat to like-minded people who are hoping to keep bees, or who have been keeping bees for a short time (about a year). Members of the committee are planning to talk about planting for bees and hive products.
They will meet our chairperson who will introduce them to the division and the services offered to support bee keeping. There will be an opportunity to purchase a membership as a Friend of Brighton and Lewes Bee keepers, to receive the monthly newsletter and join the private Facebook group with opportunities to meet local bee keepers online and glean information from them about the practice of keeping bees.
If there is time, there will be a practical session, all materials will be provided. There are limited number of spaces.
A Novice Bee Keeping Course will start on March 19th 2022.

Date
Time
Topic
Venue
Apiary
Saturday March 19th
10.00 – 13.00
Introduction to
the honey bee
The Barn, Westdene, Dene Vale, Brighton BN1 5ED
Saturday April 2nd
10.00 – 13.00
Setting up an apiary/pests and disease
The Barn
Hove
Saturday May 21st
10.00 – 13.00
Swarm and control part 1
The Barn
Hove
Saturday July 16th
10.00 – 13.00
Swarm and control part 2
The Barn
Hove
Saturday August 20th
10.00 – 13.00
Honey extraction
The Barn
Hove
Saturday September 17th
10.00 – 13.00
Preparing for winter
The Barn
Hove

This course is intended for those who have had bees for less than a year, or who don't feel ready to enter the Basic Assessment.

It will start to prepare participants for the Basic Assessment for 2023 and beyond. Membership of Brighton and Lewes Bee Keepers, clean bee suits, wellingtons and gloves will be required. A limited number of beekeeping jackets are available to borrow. There are a total of ten spaces.

(BBKA) Basic Assessment course beginning on June 11th 2022.
Date
Time
Syllabus Points
Venue
Apiary
June 11th
10.00 – 13.00
1. The personal equipment needed to open a colony ad the importance of cleanliness.
2. Demonstrate the lighting and use of a smoker.
3. Assemble a brood frame and fit it with foundation
The Barn
Grassroots
June 18th
10.00 – 13.00
1. Name local flora which honey bees gather pollen and nectar
2. Give an elementary description of how to set up an apiary
3. Describe a method used clear honey bees off supers for honey extraction
The Barn
Grassroots
June 25th
10.00 – 13.00
1. Give an elementary description of swarming in a honey bee colony
2. Give an elementary account of swarm control.
3. Able to describe one method of uniting colonies and precautions to be taken
The Barn
Grassroots
July 2nd
10.00 – 13.00
1. Able to describe the appearance of healthy brood, sealed and unsealed
Able to describe the signs of the bacterial diseases 2. American Foul Brood (AFB) and European Foul Brood (EFB), the fungal disease Chalk Brood and the viral disease Sac brood
3. Aware of the current legislation regarding notifiable diseases and pests of honey bees
The Barn
Grassroots
In the event of bad weather, the training will stop at the end of the session at the Barn at 13:00 and the practical sessions will be provided at subsequent sessions or by YouTube videos provided by Jude New.
To qualify for this course, you must have been keeping bees for at least a year.
This assessment provides a gateway for further nationally recognised skills based or exam-based study with BBKA. The BBKA basic assessment is also a requirement for tenancy, in out apiaries in some circumstances. There are a total of eight spaces.

For information on any of the training or assessment courses please contact Jude New for details.